When the community's involved, we have that sense of contribution to a bigger group. That is where I find dentistry is most enjoyable.
Jason Tung
How can we
Help?
Dr Jason Tung and the team at Beenleigh Marketplace Dental offer a range of treatments to help you maintain and restore good oral health.
I am in pain Help!
Beenleigh Marketplace Dental offers emergency dentistry to help you receive the care you need; when you need it.
I have had some pain for a while Help!
I have had some pain for a while Help!
If you've been experiencing pain in your teeth, gums or jaws but you can't see any problem; it is time to visit the dentist.
I don't like the look of my teeth Help!
I don't like the look of my teeth Help!
If you are unhappy with the look of your teeth, you have a number of options; including dental veneers, teeth whitening and dental crowns.
I have a few issues Help!
I have a few issues Help!
If you have two or more issues, see how we can help by answering just a few simple questions!
What is in-office teeth whitening?
Our in-office teeth whitening treatment begins with a short preparation in which the gums are covered and protected before a whitening gel is applied to the teeth.
The whitening gel works by breaking up stains and discolouration on the teeth. The gel is applied every 15 minutes for a total treatment of three rounds. We generally recommend that you have a comprehensive check-up and clean before you begin a whitening treatment.
How does a take-home whitening treatment work?
We create a custom bleaching tray for you to take home so that you can perform the whitening treatment yourself. The custom tray is designed to ensure that the correct amount of whitening material is used, and that your teeth are properly exposed to the formula.
How long does an at-home whitening treatment take?
An at-home whitening treatment takes between half an hour to overnight to work, depending on your needs and expectations. After two or three weeks of using your at-home whitening treatment, you will need to come in for a follow-up consultation. While the results generally last for one or more years (depending on your personal habits), you will need to repeat the procedure in time for the best possible results.
Are over the counter teeth whitening products safe?
Many DIY teeth whitening brands have a good reputation, and a lot of this merit comes down to the many results displayed on online platforms. This does not make them safe though. Don't do your teeth more harm than good. Many of these DIY teeth whitening kits erode your teeth due to the lack of control you may have, compared to having a dental professional whiten your teeth.
Read our blog "The reality of DIY teeth whitening" for more information.
Is UV teeth whitening safe?
Some procedure protocols do involve high intensity light which reportedly can cause burns, especially if it's not performed correctly. Particularly, if you have sensitive teeth, periodontal conditions or acid erosion prior to teeth whitening, the UV light may have detrimental effects if used, or overexposed.
What is the best teeth whitening?
Seeing a dental professional is the best thing you could do for your teeth, especially if you are looking to have them whitened!
Unlike DIY teeth whitening kits or over-the-counter products, this means the entire process is overlooked by a dental professional, you will not be overexposed to any products, and our team can pre-determine if the treatment will be suitable for you or not.
How often can you get your teeth whitened?
Teeth whitening, although highly effective, is not a permanent solution to discoloured teeth. In most cases, you can expect the results of your treatment to last for a year or more, but this will depend on your personal habits, including oral hygiene and dietary choices.
For an in-office teeth whitening treatment, we recommend that you come in for follow-up treatments between every six months and a year for the best possible results. If you choose a take-home tooth whitening treatment, we recommend that you come in for a follow-up visit around two to three weeks after your first appointment.
Is teeth whitening bad for teeth?
No. Teeth whitening is a safe and effective treatment, but we highly recommend that you get your treatment done professionally by a dentist to ensure your safety and comfort.
When you come in to see us, we'll begin the process with a consultation, which will allow your dentist to assess your overall oral health and determine which tooth whitening treatment is best for your particular needs. It's important that you choose a professional whitening treatment so that the correct amount of whitening gel is used, and that your gums are protected throughout the process.
Can you get your teeth whitened at the dentist?
Yes, absolutely. While we do offer take-home whitening kits, it is also possible to come in and see us for an in-office whitening procedure. In fact, having your teeth whitened at the dental office is the quickest and most effective option, plus it only takes around an hour to complete.
Before the treatment begins, your dentist will do a thorough check-up and clean. Then, your gums will be covered for protection and a whitening gel will be applied to your teeth. The gel will be applied to your teeth in three sessions every 15 minutes.
Who should use teeth whitening?
A professional teeth-whitening system can be beneficial for anyone with healthy gums and teeth who desires a brighter smile. This treatment has been proven to be highly effective in removing stains from teeth, such as those caused by tobacco, coffee, tea, tetracycline, and other causes. Moreover, a professional teeth-whitening system will not impact any existing dental work. With this treatment, you can achieve a stunning, bright smile and feel confident in showing off your pearly whites.
How many shades whiter can I expect my teeth to get?
While the amount of whitening achieved through professional teeth whitening can vary from client to client and cannot be guaranteed, the treatment generally results in teeth that are 6 to 12 shades lighter on the whitening shade guide. The level of whitening largely depends on the degree of discolouration present on the teeth before treatment. Teeth that are yellow or brown, have surface stains or are uniformly darkened tend to respond better to treatment. In some cases, additional whitening sessions may be necessary to achieve the desired level of brightness, especially for heavily stained teeth. Ultimately, a professional teeth whitening system can effectively improve the colour of your teeth and enhance your smile.
How long do the teeth-whitening effects last?
Teeth whitening is a highly effective treatment that can provide long-lasting results. While it's true that the effects are not permanent, people who take care to avoid foods and beverages that cause staining can enjoy their bright, white smile for a year or longer before another whitening treatment or touch-up is needed. By incorporating good oral hygiene practices and avoiding certain foods and drinks, you can help prolong the effects of your teeth whitening treatment and enjoy a beautiful, radiant smile.
Before and After – Teeth Whitening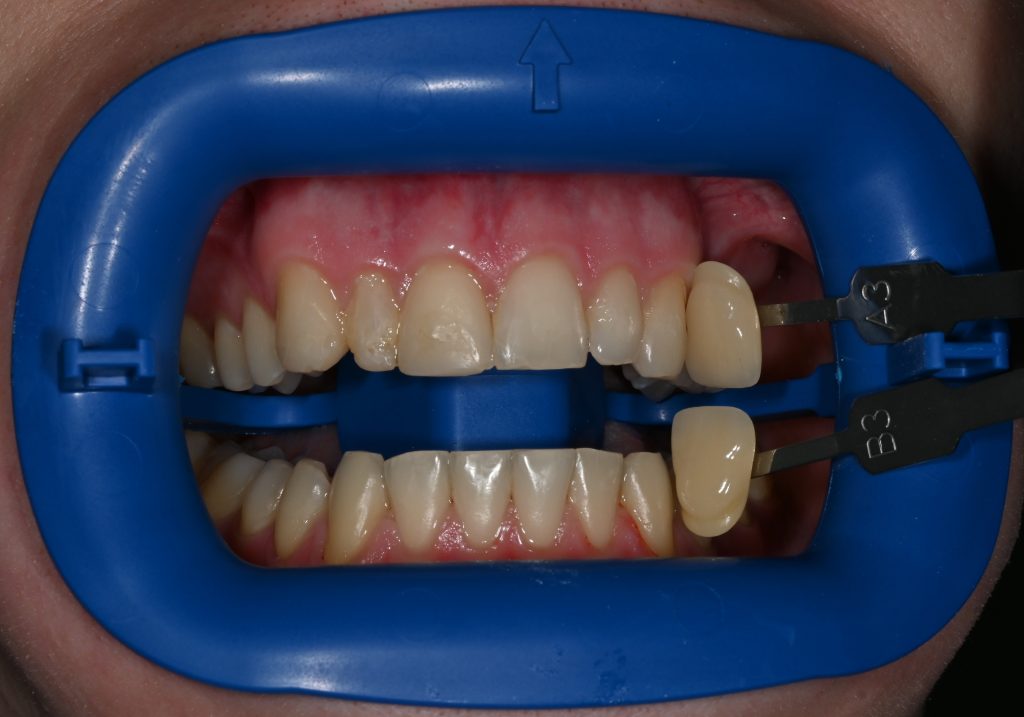 Ask a question or book an appointment
Please fill in the online enquiry form to ask a question or book an appointment. We look forward to seeing you soon.
All surgical procedures carry risks. Before proceeding, you should seek a second opinion from an appropriately qualified health practitioner.